Now taking bookings for 2023 – Please email us at info@shuswapmarina.com
At Shuswap Marina we offer Ski and Pontoon boat rentals – Single and double kayaks and Standup Paddle Boards. Also all our boats are pet friendly, ask us about our pet FEE
---
SWEETWATER – TRIPLE PONTOON
22′ Triple pontoon boat, 150 HP, bimini top, Bluetooth stereo. Seats 12
*Temporary license, safety equipment, practical demo and 3 free toys included
*Bring your pet: Fee $50
*$1500 damage deposit required at the start of the rental
1 day $700 / 2 days $1200 / 3 days $1700 / 4 days $2200 / 5 days $2700 / 6 days $3100 / 7 days $3500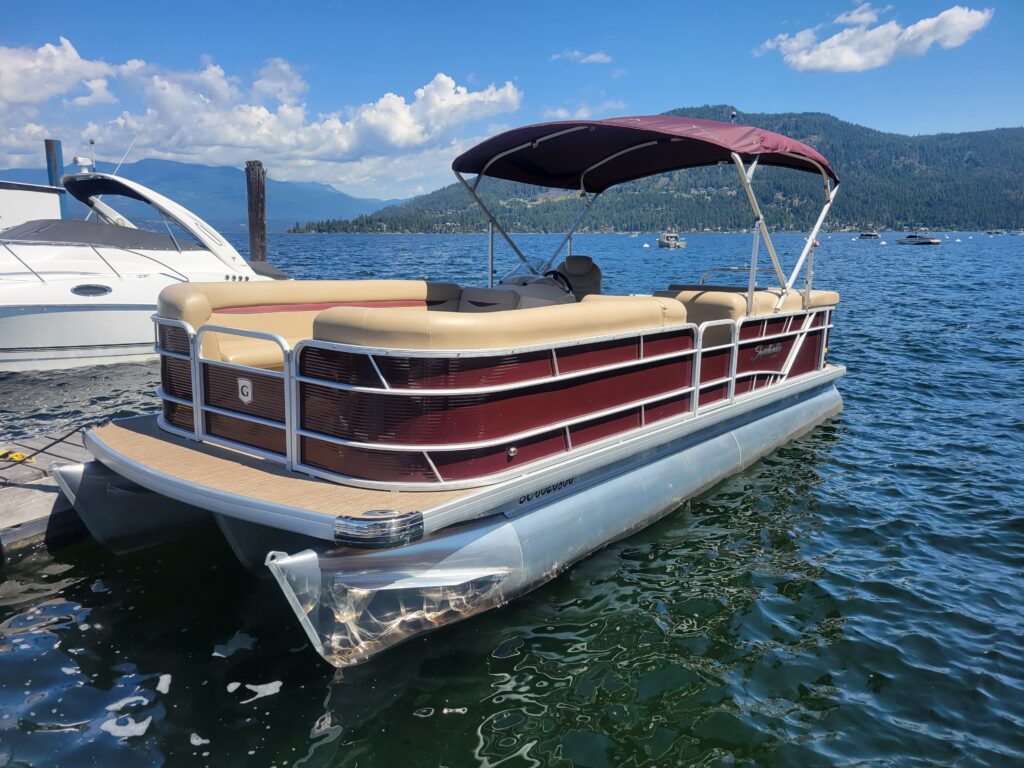 SYLVAN MIRAGE – TRIPLE PONTOON
22′ Triple pontoon boat, 150 HP, bimini top, Bluetooth stereo. Seats 14
*Temporary license, safety equipment, practical demo and 3 free toys included
*Bring your pet: Fee $50
*$1500 damage deposit required at the start of the rental
1 day $600 / 2 days $1000 / 3 days $1500 / 4 days $1900 / 5 days $2300 / 6 days $2700 / 7 days $3000
---
STARCRAFT – WHITE / TRIPLE PONTOON
20′ Triple pontoon boat, 150 HP, bimini top, Bluetooth stereo. Seats 12
*Temporary license, safety equipment, practical demo and 3 free toys included
*Bring your pet: Fee $50
*$1500 damage deposit required at the start of the rental
1 day $600 / 2 days $1000 / 3 days $1500 / 4 days $1900 / 5 days $2300 / 6 days $2700 / 7 days $3000
---
STARCRAFT – GREY / TRIPLE PONTOON
20′ Triple pontoon boat, 150 HP, bimini top, Bluetooth stereo. Seats 12
*Temporary license, safety equipment, practical demo and 3 free toys included
*Bring your pet: Fee $50
*$1500 damage deposit required at the start of the rental
1 day $600 / 2 days $1000 / 3 days $1500 / 4 days $1900 / 5 days $2300 / 6 days $2700 / 7 days $3000
---
SOUTHBAY 22′ / TRIPLE PONTOON BOAT
22′ SOUTHBAY triple pontoon boat, inboard/outboard, stereo, tower, bimini top. 260 HP
*Temporary license, safety equipment, practical demo and 3 free toys included
*Bring your pet: Fee $50
*$1500 damage deposit required at the start of the rental
1 day $600 / 2 days $1000 / 3 days $1500 / 4 days $1900 / 5 days $2300 / 6 days $2700 / 7 days $3000
---
REGAL BLUE/WHITE
20′ Regal, 300 HP, stereo, tower, bimini top, seats 8
*Temporary license, safety equipment, practical demo and 3 free toys included
*Bring your pet: Fee $50
*$1500 damage deposit required at the start of the rental
1 day $600 / 2 days $1000 / 3 days $1500 / 4 days $1900 / 5 days $2300 / 6 days $2700 / 7 days $3000


---
REGAL BLACK/RED
20′ Regal, 300 HP, stereo, tower, bimini top, seats 8
*Temporary license, safety equipment, practical demo and 3 free toys included
*Bring your pet: Fee $50
*$1500 damage deposit required at the start of the rental
1 day $600 / 2 days $1000 / 3 days $1500 / 4 days $1900 / 5 days $2300 / 6 days $2700 / 7 days $3000
---
Rent a boat from us and experience our high level of service, our boats are clean and fully equipped. We have lifejackets in all sizes from newborns to 5 XL, each boat comes with 3 free toys to make the most of your time on the lake, double tubes, kneeboards and wakeboards are everyone's favorite.

If you don't have a license don't worry: if you are over 21 years old we will be able to hook you up with a temporary license after you finish our practical demo on how to drive our boats. (Demo is mandatory for insurance purposes – if you have a boat license bring it with you to make this process more expedited)
To the pet lovers: you can now bring your best friend with you to explore Shuswap Lake, just pay our $50/non refundable fee and don't worry about leaving your pet behind.
If you have someone with movement impediment please let us know so our crew can have the boat closer and ready – we want to make sure everyone has a good time at the lake.
To book with us please give us a call at 250.675.2250 as all boats require a booking deposit. You can also send us an email at info@shuswapmarina.com
Booking deposits are refundable with at least 21 days notice of change or cancellation. With less than 21 days notice all booking deposits are non refundable.
Deposit only available over the phone or in person with a credit card number.
We hope you enjoy the lake as much as we do! Fun travels!
---