Shuswap Marina is working one more time with your favorite Shuswap Businesses!
So we are launching today, the first day of Canada Tourism week THE ULTIMATE SHUSWAP STAYCATION CONTEST! Because we believe we have so much to offer, our Shuswap region is amazing, vibrant and the perfect place to PLAN for a future vacation or even better a staycation!

We invite you to DISCOVER, EXPLORE, EXPERIENCE, ENJOY & MAKE MEMORIES HERE IN SHUSWAP LAKE!
Be ready to be blown away!
2 nights at The Prestige Harbourfront Resort Salmon Arm (Value $450)
2 x 60 min massages at Lake Life Boutique Spa at the Prestige Harbourfront Resort Salmon Arm, (Value $240)
1 Day boat rental with Shuswap Marina, Blind Bay, (Value $600)
1 picnic to go (boat rental) by Celine Just Desserts, Blind Bay, (Value $40)
2 rounds of golf plus cart at Shuswap Lake Golf Course, Blind Bay, (Value $232.96)
Gift Certificate for Duffers Den Restaurant at Shuswap Lake Golf Course, Blind Bay, (Value $50)
2 hoodies of your choice from Shuswap Soul to be picked up at Shuswap Marina Summer Store in Blind Bay, (Value $120)
2 towel ponchos from Duck & Moose to be picked up at Shuswap Marina Summer Store in Blind Bay, (Value $140)
Wine tasting at Marionette Winery, the winner will choose 4 bottles of wine of their choice! (Value $ 120)
1 guided, front-country family hike on the trails of the beautiful Shuswap Region! (Value $200)
FULL PACKAGE VALUE:

$2200!
Entering is simple:
Like this post
Make sure you Follow all our business partners:
Shuswap Marina, Blind Bay
Prestige Harbourfront Resort Salmon Arm
Marionette Winnery, Salmon Arm
Lake Life Boutique Spa, At the Prestige, Salmon Arm
Shuswap Adventure Girl, Shuswap Lake
Shuswap Golf Course, Blind Bay
Duffers Den at Shuswap Golf Course, Blind Bay
Celine Just Desserts, Blind Bay
Shuswap Soul, Shuswap Lake
Duck & Moose, Canada

Tag: Let us know who you are bringing on this staycation with you.
Share with us why you want to win this trip.
If you are from here use this as an opportunity to share with the world why SHUSWAP is such a fantastic place to visit!

So help us share this Ultimate Shuswap Staycation Contest! The more people know about it the better!
Contest run from Sunday May 23rd, until Friday June 11th. Just before Father's day!
---

Shuswap Marina is a family operated business located in the interior of Beautiful British Columbia on Shuswap Lake.
At Shuswap Marina you will find a FULL Service Department ready and able to repair all makes and models of boat and motor from stem to stern! We offer a boat towing service on the water to get you home when things go wrong! We rent boats, stand up paddle boards, kayaks and water toys and also offer the only surf shop in Blind Bay.
For boat rental booking please contact us by phone at 250.675.2250 or by email at info@shuswapmarina.com. For more information about our boats please visit our rentals page.
Winner of the giveaway contest will be responsible for the cost of fuel after the boat rental. Damage deposit required $1500 by credit card. Pet fee is extra $50.
Visit us: http://www.shuswapmarina.com info@shuswapmarina.com
Follow us: https://www.instagram.com/shuswapmarina/
Like us: https://www.facebook.com/shuswapmarina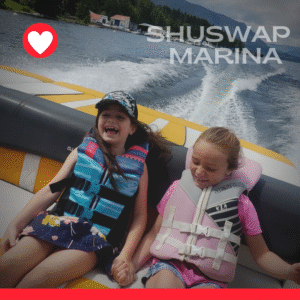 ---
"The Prestige Harbourfront Resort in Salmon Arm prides itself on offering guests a personalized, comfortable and upscale experience. Within easy walking distance to the Salmon Arm Wharf, the resort features beautiful lake views, an on-site spa, three dining options, an arcade, indoor/outdoor pool and hot tub, and meeting spaces. Please visit https://www.prestigehotelsandresorts.com/ for more information on our collection of properties."
Give them a call at: 1-87- PRESTIGE
---
Reset, nourish and reconnect with a luxury spa treatment from our gifted therapists at the Spa At The Prestige Hotel. We specialize in massage, corrective, yet relaxing facials using the IS Clinical and Dermalogica product range, pedicures and waxing.
Like us: https://www.facebook.com/
---
Experience a New Adventure in your own Backyard! Perhaps a hidden gem! Are you dreaming of waterfalls? How about an awe-inspiring panoramic view of the Shuswap… better yet, during sunset?
Join Shuswap Adventure Girl on a guided, front-country family hike on the trails of the beautiful Shuswap Region! Let's Hike Together and Explore More!
We will work together to discover and create a new-to-you destination within our home to safely take you and your family or friends on!
Details:
Up to 6 people, up to 4 hours
As a recreational guide, I carry a first aid kit suitable for group size as well as the ten essentials recommend by BC Adventure Smart.
I hold certification in Wilderness & Remote First Aid & CPR/AED Level C.
Ceertification in Bear Aware: Travelling in Bear Country.
Volunteer certifications in Hug-a-Tree and Survive, Snow Safety & Education, Survive Outside and PaddleSmart through AdventureSmart BC saftey education programs.
Valued at up to approx. $200.00
Shuswap Adventure Girl Bio:
My name is Sarah and I love the outdoors with an absolute passion! I also love my community and the outdoor recreational amenities here in the Shuswap. I consider myself a strong Ambassador of the Shuswap! I am a front country hiking guide and look forward to meeting new faces and friends alike on the trails!I live in Blind Bay B.C. with my young family of five and we thrive on adventure and fun! I consider the Shuswap one of the most beautiful places I have ever been and I'm lucky enough to call it home for the past 10 years. My inspiration for Shuswap Adventure Girl stems from my passion for hiking, paddling, boating, beaching, exploring and, going off the beaten path. The goal is to share experiences and to provide information in a fun way to encourage everyone to get out and adventure!
My vision for Shuswap Adventure Girl is to become your local, trustworthy, and authentic guiding company for all things adventure, including, family expeditions and events, Mommy and Me adventures as well as full-on touring, hiking, paddling, exploring, and overnight expeditions for all!
I value relationships, the inclusion of others, and the sharing of knowledge and resources. I also very much value community involvement, collaborations, connection with people and places, and living life to the fullest, every day, every step.
Happy Trails Everyone!
Visit me: https://www.shuswapadventuregirl.ca/
Follow me: https://www.instagram.com/shuswap_adventure_girl/
Like me: https://www.facebook.com/www.shuswapadventuregirl.ca
Contact: sarah@shuswapadventuregirl.ca
---
Shuswap Lake Estates 18 hole championship golf course was designed to offer a first class golf experience, no matter what level your game is. We designed a golf experience that lets you play comfortably at your own pace.
Scratch golfer? You will love it. 20 handicap? You will love it. Just learning? You will love it! This par 71 continues to surprise and challenge even the most frequent player. The practice facility boasts a driving range with grass and mat tee boxes. Two practice greens and a short game area.
Shuswap Lake golf course is dedicated to providing a first class golf and social experience. A lifestyle course that is one of the most enjoyable and respected in the area. We welcome you to experience this unique lifestyle.
Golf Course & Pro Shop
2404 Centennial Dr, Blind Bay, BC V0E 1H2
Toll Free 1.800.661.3955
Office 250.675.2315
Proshop@shuswaplakegolf.com
Visit us: https://shuswaplakegolf.com/
Follow us: https://www.instagram.com/shuswaplegolf/
Like us: https://www.facebook.com/shuswaplakegolfcourse
---
The rustic relaxed atmosphere of Duffer's Den Restaurant & Lounge is a great spot to meet up with family and friends. Whether it is for a relaxed drink and a fun game of Keno, lunch or evening dining you will enjoy our great food and friendly staff.
Stop by the Duffer's Den to fill up before heading out on the course. Have a drink after your round and tell us about that amazing shot on the back nine.
For reservations please call 250-675-2315 ext. 2 or email at Duffersden1977@gmail.com
Visit us: https://duffersden.ca/
Follow us: https://www.instagram.com/duffersden/
Like us: https://www.facebook.com/DuffersDenBlindBay
---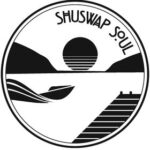 About Riley, the mind behind Shuswap Soul:

I created Shuswap Soul to show my love for the Shuswap. Shuswap Soul is all about the place I love to spend my summers.
But where did the idea come from? My name is Riley and I started Shuswap Soul when I was 13 years old. I love being at the Shuswap, being on the boat, hiking in the trails, and testing out all the ice cream around the lake. I also like skiing and hockey.
A few summers ago, I was sitting at the end of the dock telling my mom about the new hockey stick I wanted. I already have a hockey stick, but this other one was way cooler. She asked me how I planned to earn the money for it.
I asked my mom if I could start a business. We spent a lot of time that summer talking about what kind of business, what I could sell, how I could manage it. Inspiration struck. I have a buddy in Calgary who was designing and making cool shirts and I wanted to do the same.
So fast forward a few months, I drew out my ideas and worked with an awesome designer to help me create the digital files. My parents helped me figure out how to set up an online store and we found a printer that would print hoodies and t-shirts on demand and ship them out for me. I got some samples and we took some photos and launched. My mom and I were working out of a coffee shop that we call our office and I still remember hitting the publish button. It was a pretty exciting day.
In just a few days, a couple of stores in Salmon Arm asked if they could sell some of the products. I was so excited. And then a printer in Blind Bay reached out to see if there was a way for us to work together. Suddenly my business was changing really quickly from just an online store to a business that had suppliers and retailers and people could actually go somewhere to buy a hoodie or a t-shirt. All so cool.
We still have our online store and all of our printed tees, hoodies and sweaters are now printed in the Shuswap. We've also added some other products like snapback hats, toques, and some hoodies which are made in Canada. We've been lucky to work with a few local photographers and all of our pictures have either my family or other awesome local Shuswap people in them.
Having this business has given me the opportunity to meet some of the coolest and nicest people around. I am very lucky that I get to work with people who love the Shuswap as much as I do. I hope you like what you see and if you do, I won't be upset if you want to share with your friends.
Contact info: https://shuswapsoul.com/
Follow us: https://www.instagram.com/shuswapsoul/
Like us: https://www.facebook.com/ShuswapSoul
---
Made of super absorbent, quick drying soft microfiber material Includes hood and drawstring, kangaroo pocket and has side slits so the poncho can be used as a personal changeroom.

Hi we're Duck and Moose! Five cousins (ages 9-13) who started our very own business in 2020. Our first product is the towel poncho! These ponchos are designed by us and are perfect for the lake, pool, beach or mid-winter hot tub dash. We were often cold after surfing and boarding on the lake and found it hard trying to warm up with a towel while also using our hands to help get the next person ready for their turn. Wouldn't it be great if we had something easy to put on that kept us warm, dried us off, looked great and kept our hands free? Enter the towel poncho idea! When we're not selling towel ponchos, you can find us selling firewood to our neighbours or doing odd clean up jobs in the summer. We like to wakesurf, wakeboard, waterski, tube, golf, skateboard, bike, run and hike while in the Shuswap.
Contact info – duckandmooseguys@gmail.com
Follow us: https://www.instagram.com/duck_and_moose/
Like us: https://www.facebook.com/DuckAndMoose
---
Marionette winery sits on the beautiful Broadview Bench, just minutes from downtown Salmon Arm. This bench has a unique mesoclimate, perfect for growing high quality wine grapes. The complex soils and the warm aspect of Marionette Vineyards make our wines truly unique.For us, wine is a lifestyle, a passion and the result of a year-round creative process that never ceases to amaze us as winemakers. We view wine as an object of beauty and sophistication which has been central to the cultivation of joy in people's lives for millennia. We also see it as an expression of the area in which it is made, something which can only be truly experienced by visiting the place where the wine is grown, made and first enjoyed.
We make wine that's beautiful and expressive of its region and sense of place, ensuring that what we do retains the health and harmony of the ecosystem…
Come and enjoy our beautiful patio, sip our delicious wine while you enjoy the panoramic views of the mountains and our vineyards.
Contact info: https://marionettewinery.com/ marionetttewinery@gmail.com
Follow us: https://www.instagram.com/marionettewinery/
Like us: https://www.facebook.com/Marionettewinery
---
Celine's Just Desserts is a specialty pastry shop with an exclusively gluten free facility, dedicated to baking with local and naturally sourced ingredients. All my products are made from scratch, from my own recipes. Special requests can be accommodated for any order (dairy free, egg free, sugar free etc.) I also do catering for events big and small. From appetizers and desserts to full serviced meals.
Contact info: crgiesbrecht@gmail.com
Follow us: https://www.facebook.com/Celines-Just-Desserts-200734139969391
Like us: https://www.instagram.com/celinesjustdesserts/